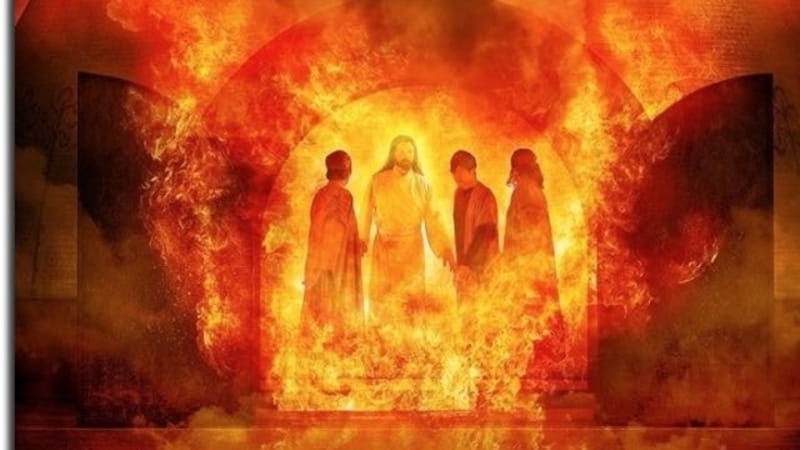 We've all gone through those times when we feel like we are "in the fire." Some trouble or hardship that overwhelms us and brings us to our knees. It can shake our faith and sometimes we can feel like things are hopeless. We can cry out to God asking, "Why am I going through this?" "Why me?" "Please take this from me!" Even Jesus cried out a similar prayer;
"Father, if you are willing, take this cup from me; yet not my will, but yours be done."

Luke 22:42
As we know, God didn't take that cup from Jesus. He had to move through it.
I was reading the other night the story of Shadrach, Meshach, and Abednego in the book of Daniel. If you recall, the story tells us about these three Jews who in the court of their Babylonian captors, was asked to essentially renounce their God and bow down to the Babylonian gods. The refused and were to be thrown into a great furnace to die for their refusal. When they were thrown into the fire, the remained unharmed and in fact, the onlookers saw a fourth person in the fire with them walking around, which even King Nebuchadnezzar called the son of gods. Eventually, the three came out of the fire unharmed and King Nebuchadnezzar recognized the God of the Jews and the men moved high up in his court.
The story is often told to highlight the great faith three had. For despite the threat of death, the believed their God would save them and even if they weren't saved, they trusted that it was part of God's will.
Shadrach, Meshach, and Abednego answered King Nebuchadnezzar, "Your threat means nothing to us. If you throw us in the fire, the God we serve can rescue us from your roaring furnace and anything else you might cook up, O king. But even if he doesn't, it wouldn't make a bit of difference, O king. We still wouldn't serve your gods or worship the gold statue you set up."

Daniel 3: 16-18
What struck me the other night was something different. God didn't put out the fire, they still had to walk through it. But God didn't let them walk through it alone. God was with them, walking through the fire with them and they were comforted and safe.
"But look!" he said. "I see four men, walking around freely in the fire, completely unharmed! And the fourth man looks like a son of the gods!"

Daniel 3:25
When I thought about the "fires" I've walked through…times I couldn't see a way out of the situation, times that it seemed hopeless, I can now look back and see that Jesus was right there with me. We are not promised as Christians that life will be easy or comfortable. In fact, there are many stories from the Bible up through modern times where we see Christians that are tortured and killed because of their faith in Jesus.
But what God does promise us…is that he will be with us. That he will be right there in the fire with us. That he will give us the means and the power to walk through any "fire" we are thrown into. With Jesus beside us and when we keep our eyes on him, we can be like Shadrach, Meshach, and Abednego and walk out of the fire.
Nebuchadnezzar went to the door of the roaring furnace and called in, "Shadrach, Meshach, and Abednego, servants of the High God, come out here!"

Shadrach, Meshach, and Abednego walked out of the fire.

Daniel 3:26